My Favorite Books for Writers
September 27th, 2008 at 6:54 pm by --KALEB NATION--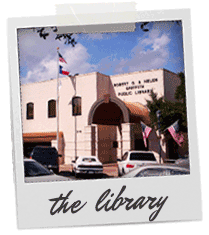 When I was about 12 years old, I stumbled upon a book at the Round Rock Public Library titled "What's Your Story?" by Marion Dane Bauer. It was a book for kids that described certain steps to tell a story well. Finding that book was a huge milestone in my life.
It was about two years before I started on The Farfield Curse (then, I was writing a fun but abyss of a fantasy story called Enchanted Memories, which had nothing to do with Enchantments, and nothing to do with Memories, but surprisingly enough had many of the same character names as is in The Farfield Curse). I was very new to writing, and when I found this book at the library, I realized suddenly that there was actually such thing as a book about writing a book.
After later miraculously finding another guide by Phyllis A Whitney in our attic, I was led to my first voluntary foray into the upper floor of the library, where the adult books were kept (a milestone in itself). There were about two shelves of books that fit between the decimal numbers for Authorship and Writing Novels: and I am almost certain that I read every book there at least once. I would literally fill up backpacks and baskets with them, bringing every guide on writing that I could find back home, or spreading them out on the library carpet to see if it had anything interesting I had not yet read about.
I discovered, to my dismay, that publishing a book is not as simple as calling up the editor of Scholastic (to me back then, all publishers were Scholastic or HarperCollins, who did Lemony Snicket). I also discovered that my cousin could not be my literary agent, that you actually have to finish a book before sending it out, and that you cannot telephone head editors to pitch your story idea, even if you found their number somehow (sorry Liz at Scholastic).
Thanks to that first book by Marion Dane Bauer, I was led to a treasury of others like it, and slowly formed a list that I re-read at least every 6 months, until I pretty much had them memorized. All the research built up was an enormous help, and having a basic knowledge of publishing lingo is priceless for query letters.
The following books are the ones I recommend to anyone who asks me about writing, or anyone who is already an author and wants something humorous and informative dealing with the writing life:
How To Grow A Novel — by Sol Stein

This book is wonderful throughout. The title is pretty much burned into my memory as a Good Writing Book, so that if anybody asks me what I recommend, this is the first one that comes to mind. I don't know what it is about it, but this book seems to focus highly on that elusive 'unique voice' that makes a good story. It doesn't really go over commas or correct grammar, but rather how to tell an engaging story and how to hold the attention of readers with your words. One of the biggest things it taught me was a technique of never giving the reader what they want, and in the process giving them exactly what they want. Confusing? Read the book. You'll understand.

How To Be Your Own Literary Agent — by Richard Curtis

Before the trolls start to hop up and down, screaming that Richard Curtis is my agent and of course I'll promote his book, there is a secret you should know: I read this book 5 years before I ever knew who Richard Curtis was (yes, it was a very welcome surprise). This book was on my Annual Reading List, because not only did it refresh me on all the duties of agents and the process of getting published, it has a nifty little appendix that describes what a 'fair' book deal is (aka $) and a 'good' book deal is (aka $$$). The title makes me laugh: there are so many things that agents do, you leave the book all the more convinced that you need to get a good agent, and fast.

Richard has recently offered this book entirely free online through Google.com, and you can read it here. Also there are links on how to buy it from stores (really, it is worth it. When my editor says things in publishingese on the phone, I am secretly paging through this to translate).

The First Five Pages — Noah Lukeman

This book was one of the biggest influences in helping me get an agent. It is very thin (only about 200 pages) but the advice in it is absolutely invaluable. Besides going over the things to keep in mind for the first five pages in your novel (practically undisputed as the most important part of the book) it also goes over Characterization, Dialogue, Narration and all sorts of important elements that go into the story.

-

-

Sometimes The Magic Works — Terry Brooks

If you are looking for a good inspirational story about a real bestselling author, this is the one. I have honestly (and ashamedly) never read a Terry Brooks novel (it's on my list… I started on Magic Kingdom For Sale just before I moved to college, and left it at home). But that didn't stop me from enjoying this story in its entirety, as the author goes over his life as a writer, certain stories from his experiences, and the things that he has learned along the way that made him the success he is.

-

Beyond The Bestseller — Richard Curtis

Another book by my agent: this one I actually read after I had signed with him, and was searching the Austin Public Library for anything by him. I found this old one (originally from the 1980′s) and read it about 4 times all the way through. It is one of the funniest accounts ever from a literary agent's point of view, telling of previous clients, wonderful book deals, pseudo-possessed authors (and editors), and much more. In the midst of the humorous stories about the writing life, from an agent's perspective, there are scores of writing tips to be gleamed.
If you have any other great books for writers, leave it in the comments!
Posted in About Me, Writing
Tags: Books, Richard Curtis, Writing